Audi C6 S6 v10 Info Dump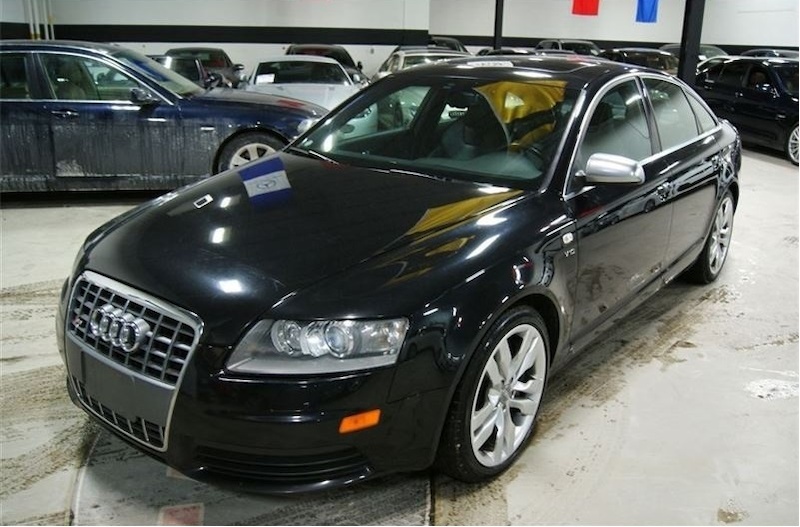 I recently purchased a high-mileage (130K miles) 07 Audi S6. I have high-performance plans for the car, but want to get everything running smoothly before the real modding begins. I looked around the web for details of the common issues with these cars. What I found were several accounts from people who had relatively no issues with them, a few horror stories from actual owners, and a lot of 'expert' opinions regarding the cars from people who had never even driven one. So, CountVohn and I both thought it would be a good idea to pull all the info together in a single thread, as a guide for anyone who owns one of these cars, or is interested in purchasing one. Before we get into the mechanical stuff, a quick breakdown of what makes the v10 S6 different than the regular C6 A6.
2007 Audi S6 MSRP $74,020 USD
The GOOD
The seats
https://www.siosauto.lt/sites/all/modules/creatur/modules/catalog/.images/9_year/s6/90augis2_large.jpg
The seats in this car are amazing. Very comfortable. Lots of support. Look great with integrated head rest. Wear well (my high mileage ones show no significant wear). Made by Recaro (I believe).
I have seen a few S6's with comfort seats instead of the Recaros. I don't know who would want this, but there are a few out there.
The v10
https://www.0-60mag.com/wp-content/uploads/2007/11/dsc_0033.JPG
Somehow Audi managed to stuff their 5.2L v10 under the hood of the S6. It makes 435hp stock (450hp in the S8 with only difference being the factory tune) and (398 lbf•ft) of torque from 3,000 to 4,000 rpm. There are magazine reports of ¼ mile times in the low 13s, however, I haven't been able to find any people with actual timeslips from the track to verify these times. So far, the only one I can vouch for is an unofficial one from my car, and that was up in the 15s (taken on a private road - no laws were broken). So, until we have some timeslips we can guess that the car is somewhere in the 14-16s range stock. I hope to have some time slips from the track in the future to see where these cars are really at. (please provide if you have them)
The v10 also has the 'rare' factor. Only the S6, S8, R8, and Gallardo get some version of it. It will often be a conversation starter with many Audi enthusiasts.
The exhaust sound
The stock exhaust sounds very good, and it only gets WAY better with an aftermarket exhaust.
The exterior
Over the regular A6, the S6 gets the more aggressive front bumper, signature S6 grill, LED strip fog lights (not in Canada, eh?), quad exhaust tips, larger door blades, lowered suspension, Xenon headlights, 19-inch wheels, flared front fenders, and a 'v10' badge

Yet still, the average person wouldn't notice a difference from a run of the mill A6.
The Options
You will find that most of the S6s on the used market a heavily decked out. I believe they all got MMI and the keyless start. Canada didn't get the LED fog lights, but I am looking to see how easy they can be added aftermarket. Many came with Carbon interior trim, and some with the package which included the backup camera.
The brakes
385mm front brakes, 330mm rear stock.
Drive ratio and F/R split
S6 has a final drive of 3.8:1 with a 40:60 split. (I dont have the data on the regular A6)
The handling
The handling of the car with stock suspension is surprisingly good. I agree with many of the reviews, that it seems overly stiff for no reason. My first mod was to swap out the stock shocks for coilovers and add an H&R rear sway. But for those who want to keep it stock, the factory suspension is not bad.
The S6 also has larger sway bars than the A6. I am not sure if the steering is more aggressive than the regular A6, as it was on the previous generation. Audi tends to change a lot of little stuff on the S-cars, but doesnt always publish everything.
The price (USED)
Depreciation has hit the S6 pretty hard. With an original base price about ten grand higher than the 07 RS4 (RS4: $94K CAD vs S6: $102K CAD base plus taxes) an 07 S6 with the same mileage (e.g 120K kms) is probably about ten grand cheaper (low 20s vs low 30s) on the used market. And, it is not hard to find an S6 for under $20k CAD. What is bad for the original owners is great for anyone looking for one now. I have a feeling that the rareness and lack of knowledge of the v10 is a contributing factor to the dropping values on these cars. I don't know where rock bottom is for the value of these cars, but the lower you are when you buy one, the less you have to fall

The Rarity
As mentioned earlier, the average person probably wouldn't know the difference between the S6 and the A6 of the same year (until they hear the exhaust, that is). But, Audi enthusiasts will quickly notice it, and will always want to know more about it.
The BAD
the v10
While it is nice to have a rare engine in theory, it is not nice to have one when you need to get work done on the car. Since they are rare, the average independent, or even Audi dealership, are not going to see them that often. So, diagnostics may take longer and cost more money. There are less 'known issues' and more just plain issues.
10 cylinders and two intake tracks means more to maintain. When you do your carbon clean, replace coil packs, injectors, spark plugs, etc. there is 20% more over a v8 and 40% over a v6.
Heat soak on the v10 in the cramped engine compartment of the S6 is extremely bad. It is yet to be seen if headers and hi-flow cats can add some relief. I think a CAI may help, like the one this guy has on his A6
http://www.audizine.com/forum/showthread.php/505617-TRUE-COLD-AIR-intake!!!
However, that would entail changing to a single throttle body. So, Ill leave that to when we talk about performance options.
Carbon Buildup
https://i183.photobucket.com/albums/x59/joec1992/photo-139.jpg
The v10 is prone to carbon buildup. Multiple user reports show that carbon can buildup and rob power. Following is a great writeup from a user who gained 55tq and 25hp to the wheels after a carbon clean.
http://forums.audiworld.com/showthread.php?t=2796154
Here is another from B6JoeS4
http://audirevolution.net/forum/index.php?topic=230.0
Following is a great thread from a guy who purchased an S6 sight unseen, online, and almost immediately started getting a CEL and began having problems with the car. Car was four years old with 50k miles on it, and I am going to assume was never carbon cleaned before he got it. He replaced a bunch of things under warranty to the tune of $25k (warranty prices).
http://www.audizine.com/forum/showthread.php/558419-Things-you-probably-want-to-get-looked-at-when-you-buy-a-used-2008-S6
He attributes most of the repairs to issues caused by carbon buildup. That being said, it seems he had a very good relationship with the shop and warranty company, and replaced almost anything that was suspect. He links replacement of the following items to the carbon buildup
Oil Separator
Fuel Injectors
Fuel Pumps
EGR/Combination Valves
There are also reports of intake manifold issues due to carbon buildup. The guy above had his walnut-shell blasted, while it sounds like other people are having theirs replaced. I will update when I have more details on the cases. The intake manifold on my car does not seem to be functioning properly, so I will report what we find when it is opened up.
S6 vs A6 3.0t
On internet forums, users like to argue that the A6 3.0t is a much better car for the money than the S6. Ynnekdude has a timeslip for 12.63 with an APR S2 tune and CAI. So, the argument definitely has merit. As listed above, the S6 has a lot of unique features that aren't easily adapted to the A6 (front bumper, flared front fenders, seats, etc). But if you want to base it purely on straight line performance, then the A6 will be cheaper to get into the 12s. It has yet to be determined if the S6 can get into the 12s without FI.
Performance
Although magazines were reporting the 1/4 mile in the 13s, and 0-60 in the 5s, real world reports from users often describe the car acceleration as disappointing, and feeling less powerful than the published HP/TQ numbers would indicate. I have some unofficial acceleration results, but I am going to wait for official track results before updating this section.
Weight
The S6 is a big car and heavy. Wikipedia states the following curb weights
Saloon: 1,910 kg (4,210.8 lb)
Avant: 1,970 kg (4,343.1 lb)
However, online magazines often quote the car as 4400 pounds. I would like to update this section with an official stock weight. So, if anyone weighs the car in stock form, please let me know.
The good news is that there should be a few areas for easy weight reduction. Lightweight Wheels, battery, spare removal and rotors, could easily shave about 150-200 pounds.
Stock wheel weight is around 63 pounds with non-OEM tire. That puts the stock wheel somewhere in the 35-pound range without tire. Use of lightweight wheel and tire could save up to 20 pounds per wheel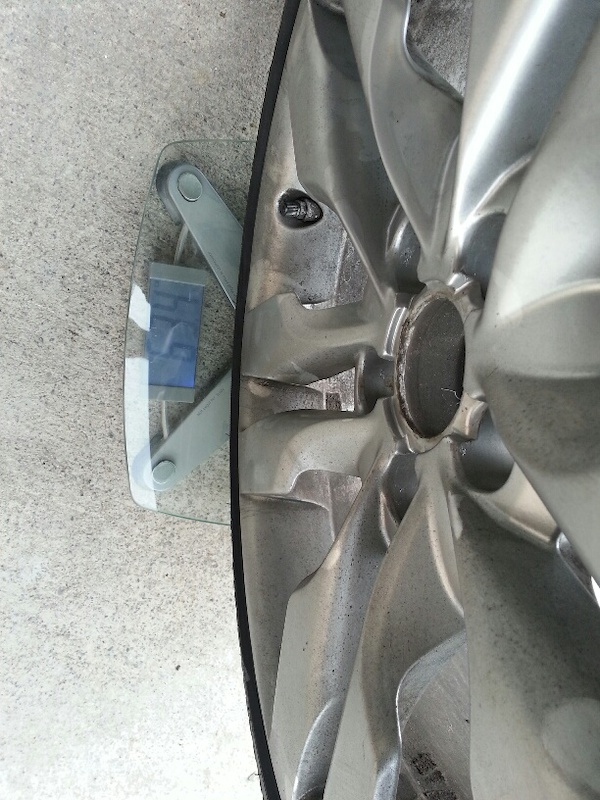 Engine drop for maintenance or repair
The following items require about 20 hours of labor to replace, since they require the engine to be dropped
O2 sensors
Catalytic converters (should be covered under emission components warranty)
Timing chain guides
Timing chains
Starter
Certain seals on the rear of the engine
That being said, there have not been widespread reports of any of these items constantly failing. When I purchased my car I was worried about the timing chain guides. But, after searching the web extensively, I havent been able to find any occurrences of their failure being reported on the S6. So, at very least it is a rare occurrence to have a problem with them.
The one that most concerns me most is the O2 sensors. These are essential to keep the car running smoothly, and on previous Audi's I have owned, needed to be replaced quite often. When we get to the performance option, we will talk about replacing the stock catalytic converters with hi-flow units (or running catless) and the moving the cats and O2 sensors to a more easily accessible location downstream.
Anyway, if you have to drop the engine for any of the above items, it is good to do a check of the rest while you are there.
Aftermarket Performance Options
Suspension
H&R makes both lowering springs and coilovers for the S6
KW v3 are also available in S6 fitment
H&R A6 rear sway is not listed as compatible with the S6, however I fit it on the STIFF setting without issue (SOFT setting has an issue, but also on some A6s)
Exhaust
It looks like the most readily available exhaust is the Milltek.
Sounds very good. The small 60mm exhaust diameter is unlikely to add much performance over the stock (which is 2.25" - to be confirmed)
Milltek Resonated S6 5.2 V10 FSI Quattro with quad rolled 80mm Jet Tips. This system uses twin 2.36" diameter piping carrying all the power to the rear tips. MSRP about $2k
JHM is rumored to be working on a catback and long-tube headers. I will post more details as they become available.
Engine components

Forged Rods
CAI
There is no off-the-shelf CAI available for the car. With the heat-soak issues, it would seem that adding one may lead to a gain in performance. There is a custom one that one user did on his 3.0t A6
http://www.audizine.com/forum/showthread.php/505617-TRUE-COLD-AIR-intake!!!
Possibly, something like this could be adapted to the S6. I am not sure if it could be run down both sides or would require changing to a single throttle body. Stock throttle bodies are dual 68mm, so opening up to one or two bigger ones may be useful.
Potential Performance Gains
After many discussions with CV and other users on this board, it would seem that performance gains could be had by addressing several areas:
Reducing engine heat soak and intake air temperature
Increasing Intake/Exhaust air flow
Eliminating or reducing Carbon buildup
ECU/TCU tuning
Weight Reduction
Air Filters
B6JoeS4 contributed some great data on the stock air filters
[b][i]I installed K&N filters on the S6 that I did and they were the same size as stockers. Here is the info on them. Part number is E-2996
The flange the filter mounts to is 3.125"
The fliter itself is 6" diameter
The filter is 4.25" long.
Flatten that out and you have a panel that is almost 19" long and of course 4.25 wide. AREA: 80" (x2 filters so 160")
I seem to remember that the end of the stock factory filters are pleated and cone shaped, so that would add to the surface area of the filter.
S4 and RS4 filters are 10.3 x 8.25 so AREA is 84"
Thickness of the filter will probably make a difference here, but I suspect it is not enough to wash out the difference and put the V8 filter in the lead
Making up a measurement number for the hell of it. Square inches of filter per liter.
5.2 V10…30.8 per liter
4.2 V8…19.0 per liter.
SO the V10 filter sizes would appear to be plenty and not a major restriction. That airbox is tiny though.[/i][/b]
Also to note, the filters on my car were all clogged up with dirt and debris. I have seen the same thing from other cars on the web. I dont know if it is the location of the airboxes, or maybe no one is checking these things, but clogged air filters seems to be a common issue.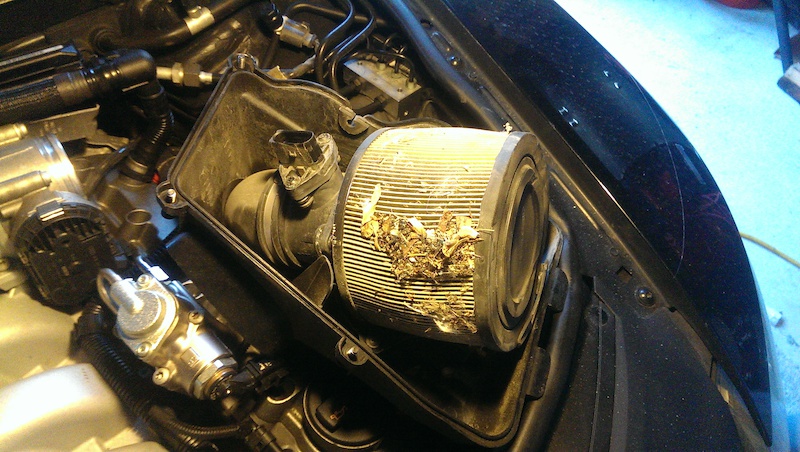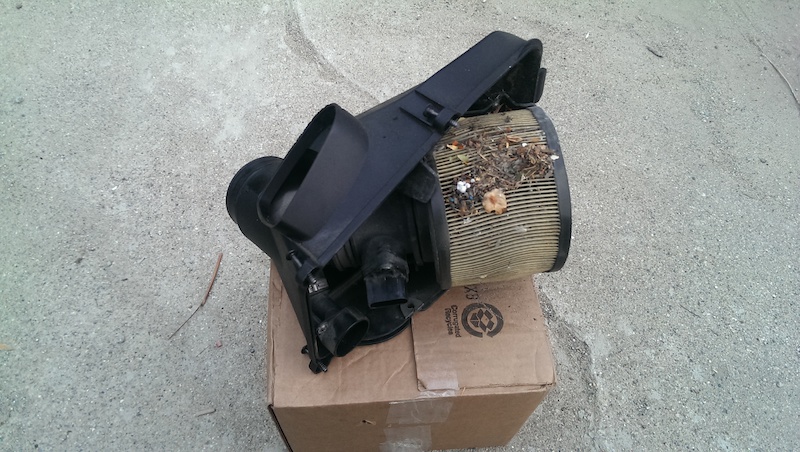 Maintenance and Tech articles
C6 TSB Library
Intake manifold removal by Paul F
S6 Intake Manifold investigation by Paul F
To be continued…