I'm about to service all of the fluids in the S-Tronic DL501 transmission as well as the 0BF sport rear differential and ordered everything needed. Not all the fluids are in need of changing currently (I'm at 50K and change) but I'm doing so anyway as maintenance above and beyond. This thread will have a full write-up along with photos and videos as I have time to get everything edited and posted. I spent a lot of time reading and researching and feel I've made fluid improvements where I have enough information to make a viable determination as to what better is. Where I don't have enough info, I'm sticking to OEM.
Some of the material is common knowledge to the regulars but I'm throwing it in here for anyone who joins the forum and doesn't know the basics.
Let's start out with the rear differential. The RS5's rear differential is a "sport differential" and it's active (I believe Audi calls this EDL). It's shared with a number of other Audis including the S4, S5, S6 but may have programming or internal differences from other models. It's often referred to as the OBF differential.
The differential uses two different fluids. One is a GL5 or "MTF" gear fluid, the other is an "ATF" style fluid of unknown specifications. MTF=manual transmission fluid, ATF=automatic transmission fluid. It's an oversimplification technically but works fine for maintenance purposes. The MTF side is where the ring and pinion gear is. The ATF side controls the active differential hydraulics and clutch packs.
Here's a video on how the rear differential works:
Servicing The Rear Differential
Rear Differential OEM fluid Part Numbers
VAG G 052 145 S2 "MTF" side
VAG G 055 515 A2 "ATF" side
VAG G 052 145 S2 is essentially a GL5 75w90 synthetic gear oil. I plan on substituting that fluid for Motul Gear 300 100% synthetic gear oil as it has a very high VI (222) and it's viscosity doesn't change as much with temperature. I'm usually up to speed on the highway before everything is fully warmed up. My engine oil temps are usually around 160 and I've logged transmission temperatures, in the summer, and it takes a good ten minutes at highway speed to get things up to temperature. The Motul flows well when it's cold and states it has zero shear.
The specifications for the ATF fluid, G 055 515 A2 are unknown. I cannot find them anywhere nor any manufacturer who recommends a product they make except for Ravenol. I'll be sticking with the OEM fluid then! It ain't cheap, around $45 for one liter. Luckily you only need one.
Aftermarket G 055 515 A2-compatible Rear Differential ATF Fluids
Ravenol Transfer Fluid TF-0870 (meets G052515A2/055515A2)

Aftermarket G 052 145 S2 compatible Rear Differential MTF Fluids
We're going to start with Motul as they've managed to make things complicated. If you go to their oil selector page and choose the RS5 MY 2010-11, they have different options from 2012-2016
MY 2010-11; https://www.motul.com/us/en-US/lubricants/recommendations/53c4e9b2c2960e9a83fdd54d46d9ac65?type_name=RS5+4.2 +FSI+quattro+%282010-2011%29
MY 2012+ ; https://www.motul.com/us/en-US/lubricants/recommendations/c1f4ff1812632044b9f2a18d4ccb91cc?type_name=RS5+4.2 +FSI+quattro+%282012-2016%29
Why, Motul why??? So they recommend the Gear 300 LS and the specs aren't nearly as good as the non-LS (limited slip) version. Their literature even says the Gear 300 is for diffs with no limited slip. Remember, we have two chambers and the gear fluid doesn't come in contact with the active diff components. That's handled by the ATF side. So keep that in mind.
Motul*Gear 300 LS 75W-90 (Motul's recommendation) SAE J 306
Colour Green Viscosity grade 75W-90 Density at 20°C (68°F)
Viscosity at 40°C (104°F) 109.6
Viscosity at 100°C (212°F) 16.4
Viscosity index 161 Flash point 200°C / 392°F Pour point -42°C / -43.6°F
MOTUL GEAR 300 75W-90 (SAE J306) Look at the viscosity @40°C! Amazing.
Viscosity grade 75w-90
Density at 20°C (68°F) 0.897
Viscosity at 40°C (104°F) 72.6 mm2/s
Viscosity at 100°C (212°F) 15.2 mm2/s
Viscosity index 222
Flash point 392°F
Pour point -60°C
*
Redline MT90
API Service Class GL 4
SAE Viscosity Grade (Gear Oil) 75W90
SAE Viscosity Grade (Motor Oil) 15W40
Vis @ 100°C, CSt 15.5
Vis @ 40°C, CSt 86.2
Viscosity Index 194
Pour Point, °C -45
Pour Point, °F -49
*
Amsoil SAE 75W-90 Gear Lube (G052145S2 Cert)
Kinematic Viscosity @ 100°C,16.6
Kinematic Viscosity @ 40°C, 129.7
Viscosity Index 137
Brook eldViscosity,cP(ASTMD2983) 98,300@-40°C
Flash Point, °C (°F) (ASTM D92) 214 (417)
PourPoint,°C(°F)(ASTMD97) -51(-60)
Ravenol VSG SAE 75W-90 (G052145S2 Cert)
Density at 20°C* kg/m³*** 864********
Viscosity at 100°C 16,5**
Viscosity at 40°C 96,8****
Viscosity index VI 185
Brookfield Viscosity 40.500
Pourpoint°C -57*
Flash point (COC) 226°C 438°F
*
Liqui-Moly Gear Oil SAE 75W-90 GL4+ (G052145S2 Cert)
SAE class (gear oils)75W-90 SAE J306
Density at 15 °C 0,855 g/cm3
Viscosity at 40 °C 81,5
Viscosity at 100 °C 14,3
Viscosity at -40°C (Brook- field)<= 150000 mPas ASTM D 2983-09
Viscosity index 183
Pour point -60 °C
Flash point200 °C
*
Fuchs Titan Sintopoid SAE 75W-90
No specs yet…
Rear Differential Parts list
-G 052 145 S2 (1 Liter needed) Can substitute with another approved oil that meets specs.
-G 055 515 A2 (1 Liter needed) Stick to OEM fluid $45 approx.
(4)Fill/drain plugs with integrated washer Mfg. # N90281802 (4 needed) $3.40ea, $13.60 total
***I went with Motul Gear 300 75w90 for the G 052 145 S2 specification (1 Liter) $22
The transmission in the RS5 is the 7-speed S-Tronic DL501, sometimes called OB5. It integrates a front and center differential and is a "dual clutch" transmission (DCT). This transmission is also used in the supercharged S4/S5, S6, S7 as well as other models. Again, it may have internal differences and due to the higher redline of the RS5, uses different transmission control unit (TCU) programming. There is a new longitudinal S-Tronic being manufactured in China for FWD cars. I believe it's called the DL387 but it doesn't share much with the DL501.
The DL501 is rated at 406ft.lb of holding capacity. Aftermarket TCU tunes allow the transmission to handle more torque. I have the gear ratios and I'll add those here soon.
Like the differential, the DL501 transmission uses two different transmission fluids and has two separate chambers for each fluid. Some DCT's, like the one found in the Nissan R35 GTR, house all of the mechanics, gears, actuators, clutch, in one housing and use two fluids. That expands the fluid requirement by a good amount.
On the DL501, one chamber houses what's called the mechatronics unit along with the wet clutch pack. This is composed of hydraulically-actuated gear selectors along with the electronics to control them. Think of it as a robotic left leg. Fluid in this side of the transmission is referred to as ATF fluid.
The "mechanical" side houses the actual gears as well as the front and rear differentials. Fluid inside this chamber is referred to as MTF fluid.
The genius in this design is it narrows the fluid specification down as one fluid is not required to do all things.
The two fluids used in the transmission are different from the differential despite both having an MTF and ATF side. It's confusing but again, the fluids are specified differently due to different properties needed by the internal components.
Here's a good video to watch.
Servicing the DL-501 S-Tronic Transmission
One more video, this one shows the wet clutch for the DL501 being taken apart. There's some interesting tidbits there and you get an idea of why Audi uses a very specific fluid for the ATF side which services the mechatronic and the wet clutch.

Transmission OEM fluid part numbers
ATF: VAG G 052 529 A2 (7 liters)
MTF: VAG G 055 532 A2 (5 liters)
The manual transmission fluid (MTF) or gear side fluid specs aren't well known. I did find specs on a Polish Audi site here: https://www.vw-group.pl/files/MSDS/G__055532.pdf
My polish is a bit rusty but I can glean some specs.
VAG G055 532 Specification
VIS @ 212F=8.0
VIS @104F=40.0
Viscosity Index=?
Pour Point -?
Flash Point 392F
It lists G055532 but not the "A2" part. It is not a thick oil to say the least so I've decided, based on the specs I've found for other supposedly compatible oils, to stick with the OEM fluid. I very much wanted to use the Motul Gear 300 but I cannot guarantee it'll play nice with the front or center differential. I'm not sure if it has the right additives package.
The specifications for the ATF side, G 052 529 A2 are apparently known by many oil manufacturers and there's a wide selection of fluids available which meet this specification. Some of these "DCT" fluids actually meet BOTH gearbox specifications, that for the ATF side as well as the MTF side. Motul Multi-DCTF is a great example of this. I'm steering clear of those fluids and here's why; as mentioned before, Audi created two different specifications which most likely perform better in their respective environments than a do-it-all fluid. The ATF side of the transmission isn't exposed to gear shearing like the MTF side and likely needs a thinner fluid to heat up and cool down more quickly. It's operating hydraulic actuators and maintaining the proper friction ratio for the wet clutch packs, similar to a motorcycle oil that not only lubes the engine, but the transmission and clutch too. It's also in charge of cooling down the Mechatronic electronics controller which is internal. Early DL501 transmissions often failed when the electronics board burned out (Pre-2012). The electronics board itself is now a serviceable item and can be bought and installed separately.
Here's a full list of all of the "ATF" fluids which meet G 052 529 A2 specifications:
Redline DCTF 100% synthetic (Lists G 052 529) https://www.redlineoil.com/Content/files/tech/DCTF_PROD_INFO.pdf
VIS @ 212F=8.1
VIS @104F=40.7
Viscosity Index=177
Pour Point -50F
Flash Point ?
Motul Multi-DCTF Semi-Synthetic blend https://s3-eu-west-1.amazonaws.com/m...pdf?1510939252
VIS@212F=7.3
VIS@104F=33.8
Viscosity Index=189
Pour Point -49
Flash Point 385F
Rowe ATF DCT II Full synthetic
Viscosity @ 104F 32.8
Viscosity @ 212F 6.6
Viscosity Index 175
Flash point 366.8F
Pour point -40
Ams oil DCT Fluid 100% synthetic (meets G 052 529) https://www.amsoil.com/lit/databulletins/g3431.pdf
Amsoil
VIS @ 104F=38.8
VIS @212F=7.7
Viscosity Index=177
Flash point=446F
Pour Point -72.4
Pentosin FFL-4 Not confirmed to work with the S-Tronic yet http://www.pentosin.net/specsheets/pentosin_ffl-4.pdf
Viscosity at 104F 36.3
Viscosity at 212F 7.0
Viscosity Index 173
Pour Point -51°C/-59.8°F
Flash Point 224°C/435.2°F
A note on Pentosin products. If you do some research, you'll see they recommend their FFL-2 for the S-Tronic. Well, that's NOT for the DL501 but rather the new FWD S-tronic DL387 which has a far lower torque rating.
Liqui-Molly 8100 DCT Fully synthetic (meets G 052 529 A2) https://pim.liqui-moly.de/pidoc/P000...00-31.0-us.pdf
Viscosity @ 104F 33.0
Viscosity @ 212F 6.85
Viscosity Index 174
Flash Point 392F
Pour Point -54F
Castrol Transmax Dual Full synthetic https://msdspds.castrol.com/bpglis/FusionPDS.nsf/Files/8CA4D9C7A952E6C98025803C004AFC36/$File/BPXE-AEX992.pdf
Viscosity @ 104F 35.5
Viscosity @ 212F 7.2
Viscosity Index 166
Flash Point 446F
Pour Point -97F
Millers Millermatic ATF DCT-DSG Full synthetic https://www.google.com/url?sa=t&rct=...Kr-npFR_9Na03X
Viscosity @ 104F
Viscosity @ 212F
Viscosity Index 1
Flash Point
Pour Point
Torco DCT 100% synthetic
Viscosity @ 104F 7.0
Viscosity @ 212F 33.9
Viscosity Index ???
Flash Point -54C
Pour Point 383F
Dodson Motorsports DMS Euro
This is a company out of Australia which does a lot of DSG work on various cars from the Lamborghini's S-Tronic to Evo's to R35 GTR's to Porsche, Audi and VW. They list no specifications on their web page and didn't really give any up to me when asked although they were helpful in other regards and said if we start breaking transmissions, they'll make them stronger. They are looking at uprated clutch packs now.
https://www.dodsonmotorsport.com/audi/fluids/heavy-duty-transmission-fluid.html
Interestingly, they list their fluid operating temperature range between 70-90 celsius. The RS5 typically sits at about 101 degrees celsius. There's also a nice little chart on their page which lists the specs for clutch grip, gear lubrication and longevity for their various fluids. They have three GT-R fluids and it's interesting to see the tradeoff (albeit really simplified) between them.
So now that you've picked the fluid you're going to use (or pulled your hair out), here's a full parts list of what you'll need for the ATF side. It does pay to shop around. One place may have all the hard parts but charges $5 more a liter for the fluid. So look around and find the best deal you can. I do always try to support the Audi performance sites that support us, especially when they have a good web page and answer questions. I'll pay a bit more even. But no communication, no sales. And quite frankly, some of the websites are really poor from an e-commerce standpoint. Others are huge but have inaccurate or incomplete information. So do your homework!
Transmission ATF Parts List (or what I purchased and cost!)
(7)Liqui Moly 8100 DCT Fluid- $13ea, $91 total with free shipping
(15)Transmission ATF pan bolts, part number N91096801 (M6x20), $1 each, $15 total.
(4) Subframe crossbrace Hex head bolts Mfg. # N91151101 $3.70ea., $14.80 total
(2) Subframe Torx head bolts Mfg. # WHT005372 $4.99ea $10.80 total (Note, a washer is sold separately but they threw them in. Can probably reuse those.)
For the following, I purchased it as a "kit" through ECS Tuning but had to do a small work-around to qualify for free shipping. These are the OEM part numbers.
(1) External Transmission filter gasket (o-ring) Mfg # WHT003379
(1) External Transmission coolant circuit filter Mfg. # 0B5325330A
(1) Internal DSG Filter, Mfg. # 0B5325429E
(1) Pan gasket Mfg# 0B5321371F
(1) ATF Drain Plug Mfg. # N0138157
(1) ATF Drain Plug Washer Mfg. # N0138275
I chose to purchase one of the ECS kits which use OEM quality but aftermarket filters and components but I had to purchase the kit that does not include the external filter and 0-ring gasket. That I had to purchase separately. The kit which comes with all of those components isn't listed as qualifying for free shipping even though it contains the same exact external filter. I'm sure it's just an ECS glitch.
Kit: https://www.ecstuning.com/b-assembled-by-ecs-parts/dsg-automatic-transmission-service-kit-without-fluid/0b5325429ektkt2/
External Filter: https://www.ecstuning.com/b-hamburg-tech-parts/dsg-transmission-cooling-filter/0b5325330a~ham/
ECS throws in their magnetic plug even though the pan itself already has two giant magnets.
(1) ECS ATF Filter/Gasket kit ECS # ES#3200790 $73.99
(1) Hamberg Tech external filter ECS # ES#2972736 $12.31
That'll give you the other "kit" ECS sells which for some reason, doesn't include free shipping, even though it's exactly the same.
MTF Side Parts List
(5) VAG G 055 532 A2 (That's five liters)
Here's a photo of everything needed to service the transmission and rear differential.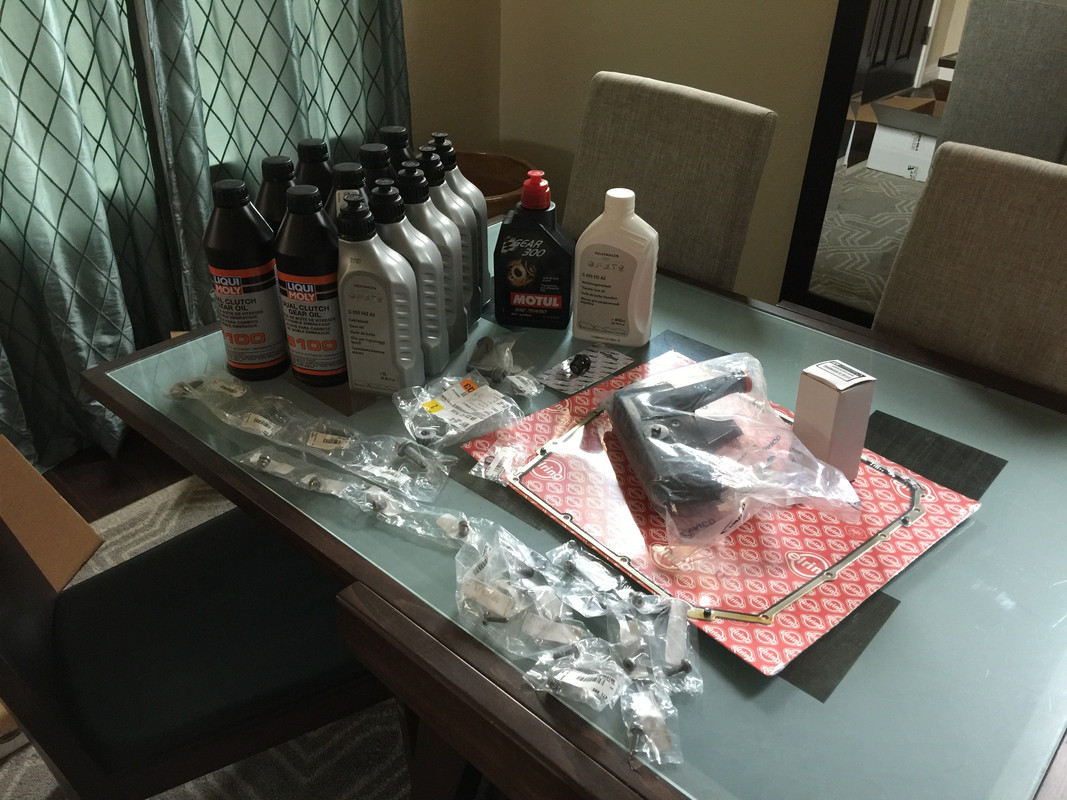 Next post, rear differential how to.