Which engine is in your Q7? 3.0T?
Yea. It was a jk vid. Looks like my engine mount tore from the massive gains haha. It is though, much more powerful than before
Curious to know if you ever Dyno it. I have a JHM tune in my RS5 but for the 3.0T in my S5 I went with a 034 motorsports tune along with their tune for the DSG. Did their Stg2+ tune. Smaller Supercharger pulley, SAI delete, Resonator delete and X-pipe. '13 S5 is 333bhp stock so it should be over 400bhp, but those numbers are at the flywheel, have to dyno it for rear wheel bhp. Is the Q7 272bhp rated stock? That's what my wifes Q5 is. Thinking about just a Stg1 tune for her car. Not sure if JHM or 034 make a tune for the ZF 8spd.
JHM sold me their one and done 270mm crank pulley that gets the desired 3.2:1 pressure ratio or whatever. Also their massive SC heat exchanger for IATs. Massive low down torque. The tune was a grand for ecu/tcu (only option) on my 8 speed. The tune raised SC PSI 7 psi over stock but I had the sline with thr 333hp version also. No never dynoed it prolly never will.
My estimate is at sea level it is close to 430 CHP on 91
If you do what I did to my 7 on your wife's 5 the end result will be near identical.
What's crazy is that the motor mounts have a lot of room in travel when they are not broken.
A local friend has an A6 3.0T with the JHM treatment. It was fucking way impressive. And just like you said. Down low power is fantastic. it's all over the rev range. That there is gobs of power not just WOT.
JHM for sure makes 8 speed tunes for the ZF. I know JHM has been makeing ZF tunes for about 10 years same with tuning all together. So for me JHM is a solid choice. I like that JHM actually owns the car and tests and tunes on the street not just WOT pulls on the dyno.
Yes mine has the 8 speed jhm tcu on it. It will bounce the rev limiter in M and shift at near 7200 in D/S. The added power from the old 6500 limit vs the 7200 is noticable and fun
Coolant pump went today, not stg2 related obviously.
Took the trip from Tahoe to Pismo last week, car freaking tips at sea level, very pleased!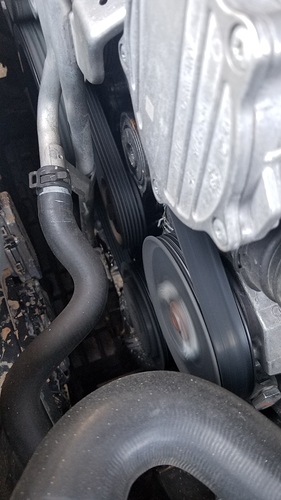 So far I have done the driveshaft, carbon clean, engine mounts, and now the WP. Not too bad for 130k and the price I paid for a great whip. CAs are gonna be on the list soon
Hey LT,
Just picked up a '15 white Q7 sline prestige for my wife. Can't wait to surprise her with this same mod setup. After she's driven hers for a while.
Any mpg drop during "normal" driving?
Oh awesome dude! I really like these cars. So cumfy. Did you get air ride or springs? When doing WP also replaced tstat and all the pvc stuff because the blower was off. I never have taken account for mpg being where i live is mountainous and 4500feet.
I figure difference in mpg over course of my lifetime isn't going to be life changing

According to our tuner, with the larger pulley it increases VE and should result is a better mpg if driven normal. However the JHM tunes are always aggressive and light pedal input is something to get used to.
I think hers is spring ride, which is Cushy enough for me (would like to try the air ride sometime to compare). I love the room, sunroof, the interior quality and finish, third row, and capability with towing. It has 80k miles, and I read up on this SC 3.0 being a decent motor, with the 8 speed trans being even better. It was serviced it's whole life at a local Audi dealership. Has the split second tensioner rattle upon cold start up, but I read that it's okay if it's very very brief.
Her upgrade had me looking at an upgrade myself… breathe, the V10 will be once in a lifetime.
I had air on my 03 allroad and then again on my D3 A8L so am somewhat nostalgic for air regardless of its cons. When I tow there is no tongue sag and fun in the NV mountains
The 8 speed is fantastic, even better tuned, its noticable.
Took down an explorer st here in Reno yesterday "barely" so that's a testament to the new performance the Q has. Quiet and sleeper, just stock intake so can just hear the SC whine now
What do you mean? Your gonna rid the 5.2 for something else? I cant let go of mine, I'm in now more than its worth
The Q7 is eating oil even after replacing the whole pvc system.
I think mine may be doing the same thing, but not sure what could be the cause yet. Couldn't find any leaks. I need to take the time to measure the mileage between top offs next time the low light comes on. Glad to see there are good reviews for the JHM 3.0T Q7 package. How much was the total package, including heat exchanger, etc? Our warranty is just about up, so we may do the same this winter or next spring.
I hear the 3m0t eats oil, I just didnt know that it consumed oil to the point that I needed to carry a quart with me everywhere like a problematic 2.7t lol
The whole JHM kit was about only 2 grand for HX, Pulley, belt, and tune
The 3.0Ts typically leak or consume oil from a few places.
Leaks are usually:
Valve covers
Rear upper timing chain covers
Front mechanical vacuum pump
Oil filter housing - rare
Oil consumption places are:
PCV
Valve stem seals/guides
Pistons/rings - rare
If you can't see any leaks and have already replaced the PCV then do a cylinder leakage test on each cylinder to see if any cylinders are above 40%. If none of the cylinders have high leakage then drive it hard for a half hour, park it somewhere that it can sit overnight and be worked on the next day, the following day pull off the supercharger to see if there is oil pooled on the intake valves.
Not sure about the earlier 3.0t's but my '13 S5 (333bhp rated) maybe uses 1/2qt between 6k oil changes.
Mine has stopped burning after I replaced everything PVC related and put in the "new PNs" that audi suggested. Car still gets abused but same amount of oil comes out when I change it!
I am going to put on those poly control arms on this thing, I hope they are not ridiculously loud or squeaky…
What all did you end up replacing along with the PCV assembly itself?
I have been looking at the corrugated PCV vent hoses thinking I should probably replace those at the same time for good measure. Not cheap though for what they are.
Everything PVC related. Planned downtime is cheaper than getting stranded imo
I did the wp, stat, pvc, and oiled the blower all at same time when in there